I'm sure many of you are familiar with the popular market adage, "Sell in May and Go Away". It's a catchy saying that has been around for decades. The idea behind it is that stock market returns tend to be weaker during the summer months, from May to October.
In the past issues of Seasonal Insights, we delved deep into this captivating phenomenon by examining the performance of the top eleven stock markets worldwide. Our study has confirmed that a seasonal weakness indeed exists. But the question remains: is it possible to uncover hidden gems during this period, or does the entire industry take a summer siesta?
Summer Stocks
As the summer heat hits, people start craving chilled and revitalizing drinks, making it the perfect season for beverage companies to shine. From soft drinks to sports drinks and bottled water, non-alcoholic beverages tend to witness a surge in sales during this time of the year.
For those seeking to quench their thirst for investment opportunities, Monster Beverage Corporation is a stock to watch out for. The company has already kickstarted its seasonal trend, which typically lasts from March to August, and presents an enticing opportunity to hop on board.
Seasonal Chart of Monster Beverage Corporation over the past 10 years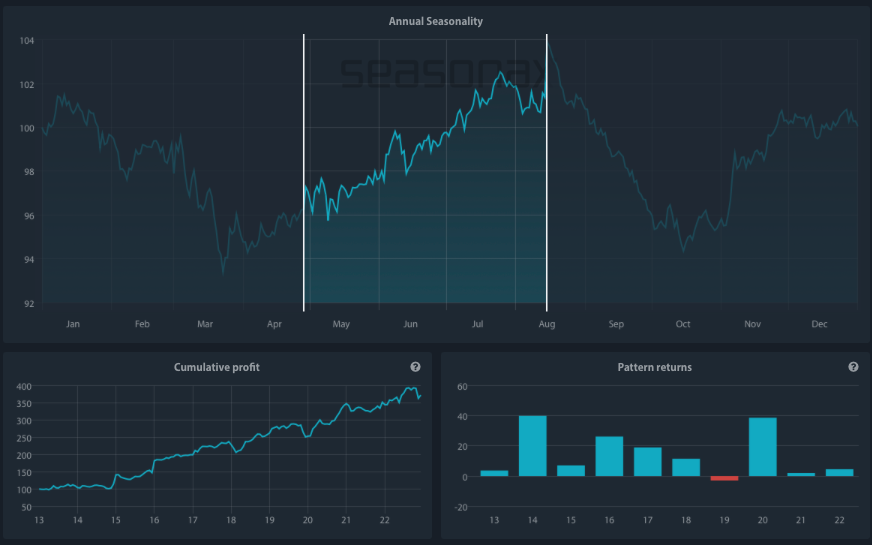 Source: Seasonax, for further analysis click on the link http://tiny.cc/Seasonax-MonsterBeverage
Keep in mind that a seasonal chart depicts the average price pattern of a specific asset in the course of a calendar year, calculated over several years (unlike a standard price chart that simply shows prices over a specific time period). The horizontal axis depicts the time of the year, while the vertical axis shows the % change in the price (indexed to 100). The prices reflect end of day prices and do not include daily price fluctuations.
Over the past decade, from April 28 to August 15, the company has boasted an impressive average return of over 14%. What's more, this trend has proven to be consistently profitable since 2013, except for a loss of 2.96% that the stock printed in 2019. However, it's important to remember that the stock market is unpredictable and past performance is not a guarantee of future success.
With the onset of summer, the demand for travel and outdoor activities also increases. Companies that manufacture or sell outdoor recreational products such as sporting goods, camping equipment and bicycles, may see increased sales during this time. Look for companies with innovative products or services that can cater to the growing demand for outdoor experiences.  Dick's Sporting Goods is one such companies that has been consistently capitalizing on this seasonal trend. In recent years, the company's stock price has shown a strong upward trend, rising by an average of around 21% from mid-May to mid-September. Please click on the following link http://tiny.cc/DicksSportingGoods to access the interactive chart.
However, staying healthy is also a year-round concern, especially for individuals with diabetes. During the summer months, when warmer weather and increased outdoor activities can impact blood sugar levels, monitoring glucose levels becomes even more crucial. This is where DexCom comes in.
DexCom dominates the market as a leader in providing continuous glucose monitoring systems for people with diabetes, with a strong performance history during the summer months.
Seasonal Chart of DexCom over the past 10 years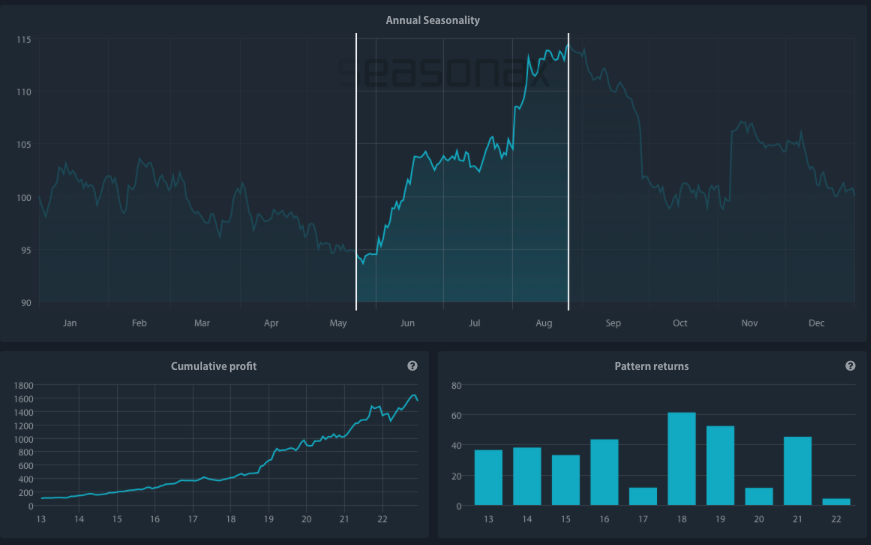 Source: Seasonax, for further analysis click on the link http://tiny.cc/Seasonax-WW
Looking at the seasonal chart above, over the past 10 years the time period from May 23 until August 26 has been more than favorable. In the short time span of 66 trading days, shares of this health giant rose on average by almost 33%. Moreover, since 2013 the pattern returns had a winning strike of 100%, making this stock even more interesting for future investment.
Enter the world of seasonal opportunities
Despite the seasonal weakness that is often associated with the summer months, there are still market opportunities waiting to be uncovered. While the "Sell in May and Go Away" adage may hold some truth, it cannot be applied universally as a one-size-fits-all strategy.
By digging deeper, into specific industries and sectors that thrive during the summer months, investors can uncover hidden gems that have the potential to defy the seasonal weakness and generate strong returns. As always, thorough research and careful analysis are essential when selecting stocks for investment, regardless of the season.
Therefore, start leveraging Seasonax to identify the optimal entry and exit points based on recurring patterns. By signing up for free at https://app.seasonax.com/signup, you can access over 25,000 instruments, encompassing various sectors, stocks, (crypto)currencies, commodities, and indices.
Remember, don't just trade it, Seasonax it!
Yours sincerely,
Tea Muratovic
Co-Founder and Managing Partner of Seasonax